Setting The Stage
Imagine the captivating scent of a crackling campfire, mingling with the cool breeze and the serene night sky. Campfire scented candles have become a popular trend in recent years, allowing you to recreate these cherished moments right in your living space. Whether you're a nature enthusiast, an adventurer, or simply someone who loves the aroma of a campfire, these candles offer a unique way to embrace the essence of the outdoors.
Why Campfire Scented Candles Are Trending
The appeal of campfire scented candles goes beyond just the fragrance. In a fast-paced world dominated by technology, these candles provide a much-needed escape. They offer a chance to unwind, relax, and reconnect with the simple joys of life. The rustic scent of a campfire has a calming effect, evoking memories of cozy nights spent around the fire with friends and family.

Factors to Consider When Choosing Campfire Scented Candles

Scent Accuracy
When selecting any scented candle, you want a scent that you're going to love having in your home. When choosing a campfire scented candle, it's a bit more complex because authenticity matters. Look for candles that capture the true essence of a campfire – the smokiness, the woody notes, and the subtle sweetness of burning wood. High-quality candles use a blend of fragrances to achieve a well-rounded and accurate campfire scent.
Burn Time
A longer burn time ensures that you can enjoy the campfire ambiance for extended periods. Check the product details to find candles with an acceptable burn time. This way, you can savor the aroma without worrying about replacing the candle too frequently.
Ingredients and Eco-friendliness
Opt for candles made from natural and eco-friendly ingredients. Coconut wax, soy wax and beeswax candles are popular choices as they burn cleanly and emit fewer toxins into the air.

At Moment At Home we utilize high-quality coconut wax. This is one of the newer waxes to gain popularity for it's clean burn, sustainability and fantastic scent throw.
In addition to wax, consider quality wicks and fragrance. We prefer a lead-free cotton wicks and the finest fragrances with no phthalates or pesticides.
Container Design
The container or jar holding the candle plays a role in enhancing the overall experience. Some prefer clean and modern candles while others prefer more bold designs. This is a choice that only you can determine. At Moment At Home, we've opted for chic and minimal design that can fit into any home. What works best for your space?

How we decided to rate these candles
When we developed our own campfire scented candle, we did the only reasonable thing and researched the market. Needless to say, we've tested a lot of campfire candles, bonfire candles, fireside candles, firewood candles, and the list goes on.
While we decided to go a slightly different direction and create a more unique campfire scented candle with a soft touch of ocean air for a coastal influence, there are others that we really enjoyed.

So why would we list competitors candles? Well, in our perfect world, everyone would purchase our product and avoid our competitors like the plague! But we know that's not going to happen. We do have supreme confidence in our product and feel comfortable going head-to-head with any of our competitors. So why not share things that we truly enjoyed so you can make an informed decision courtesy of your friends at Moment At Home.


Let's start with the obvious. We made this candle so of course we love it, but for good reason. As mentioned, we researched and tested many fragrances to land on the perfect campfire candle. We also checked out the competition. After tons of work, we landed on Coastal Campfire.

This special candle captures the feeling of being outdoors enjoying a beachside bonfire with loved ones. When you light it, you'll notice the strong scents of smoke, musk, and cedarwood, which instantly transports you to the great outdoors and reminds you of that magical night around the crackling fire. There's also a subtle hint of salty ocean air, along with hints of amber and sandalwood. All these scents mix together to create a deep and complex fragrance that really takes you back to that magical moment.
All candles are hand poured in our Los Angeles facility.
Price: $$
Highlights
Burn Time up to 50 Hours

High Quality Coconut Wax Blend

Free of phthalates & pesticides.

Made In America
This is a great candle with a clever name and an quality fragrance. A standout from a well respected candle brand, this gem recreates quintessential fireplace ambiance. It has a skillful blend of cedar, dwarf pine, oak ash, smoke and others crafts an authentic smoky scent. It does have a higher price tag and we would qualify it as a bit of a splurge, but we did enjoy this candle very much.
Price: $$$$
Highlights
Burn Up to 60 hours

Soy-Vegetable wax. 

Made in America
The Illume Woodfire Candle captures the rugged charm of a campfire in a contemporary package. The rich and complex scent profile combines notes of cedar, vetiver, and leather, creating an enjoyable scent and quality burn. The stylish glass container is enjoyable and could fit well in your room. They use a quality blended soy wax and this candle offers a clean and even burn. This mid-priced candle delivers quality without breaking the bank.
Price: $$
Highlights
Approximately 45-hour burn time

Soy Wax Blend

Made in America
The NEST brand is well known and offers a quality product. Their Hearth Scented Candle offers a luxurious and refined take on a cozy fireplace. We know it's not exactly a campfire-inspired scent, but similar to D.S & Durga above, we'll call their fireplace scents 'campfire adjacent'. Offered in an 8.1-ounce glass jar, this candle exudes a rich and complex fragrance. This fragrance carries subtle traces of smoky embers intertwined with the earthy allure of oud and the sweet, woody essence of frankincense. Together, they create an inviting and cozy atmosphere reminiscent of a comforting hearth.

Price: $$$
Highlights
Burn time up to 60 hours

Food-grade Paraffin Wax
Diptyque Paris – Feu de Bois (Wood Fire)

The Diptyque Feu de Bois candle encapsulates the essence of a cozy winter evening by the fire. We enjoy Diptyque's classic glass vessel that allows the candle to fit flawlessly into any décor. The candle itself exudes a rich and evocative fragrance that is very enjoyable. Notes of smoky wood and warm embers intermingle with hints of cedar, creating a captivating and realistic fireplace experience. The artisanal craftsmanship and attention to detail make this candle not just a scent, but a sensory journey into the heart of a comforting fireside scene. While we enjoyed this candle, similar to D.S. & Durga above, this candle is in the $70+ range and we would consider a splurge purchase.


Price: $$$$
Highlights
Burn time of about 60 hours
Vegetable & Refined Paraffin Wax
Made in France

Craft & Kin's Fireside Scented Candle comes in a convenient and simple screw top 7.6-ounce jar. This is a common look that customers enjoy. It's used by many candle manufacturers and has proven to be an effective vessel. The fireside scent is carefully crafted to capture the essence of a rustic campfire, blending notes of smoky wood, roasted marshmallow, and a hint of vanilla. The scent is crafted using natural essential oils and has a burning capacity of around 45 hours. Its formula, containing pure soy wax, ensures a gentle scent dispersion and a clean burn while limiting soot residue. Last, this is the most affordable candle on the list and offers a nice bang for your buck. Though we believe our Coastal Campfire candle offers superior quality and performance, this is a fantastic sub-$20 option.


Price: $
Highlights
Burn timeup to 45 hours

Soy Wax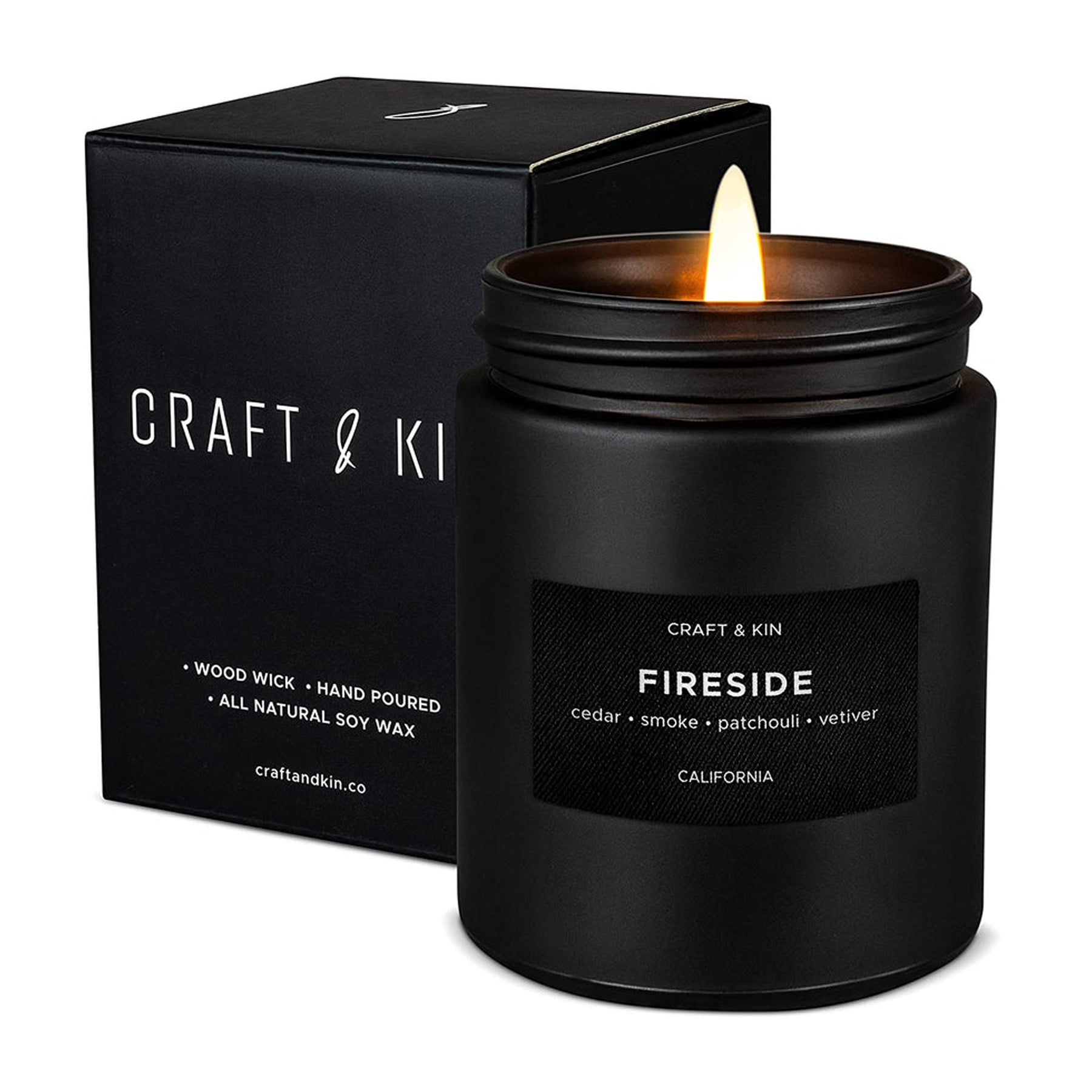 We love West Elm's furniture and home decor, but if you weren't aware they do offer candles and home fragrance accessories as well. Their Fire Candle is a sophisticated interpretation of the fireside or campfire experience. Housed in an elegant glass container, this candle features a blend of smoky notes, cedarwood, and vetiver. With a burn time of approximately 50 hours and a price tag around $40, this candle provides ample opportunity to bask in its inviting scent. The minimalist design and quality burn make it a nice purchase that will likely fit well in any room.

Price: $$$
Highlights
Soy wax.
50+ hour burn time.
Made in Canada.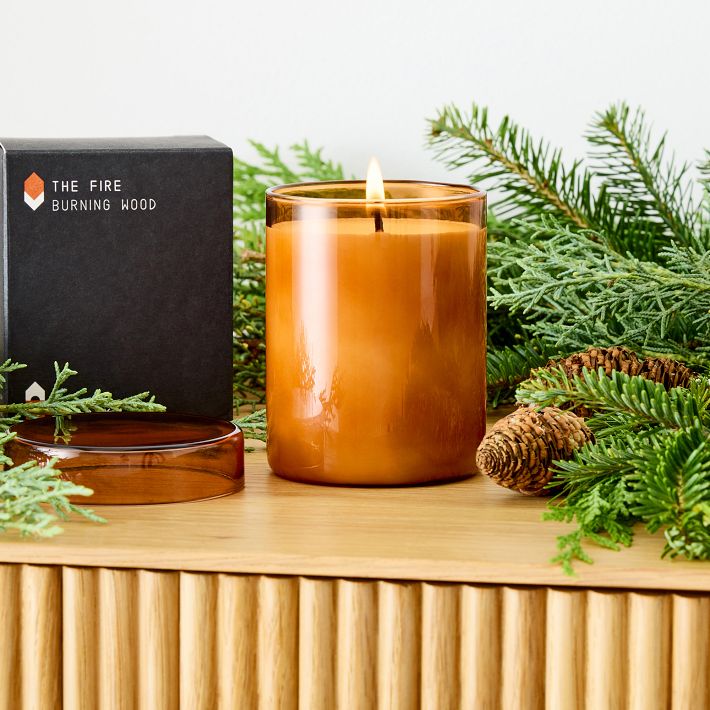 The Outdoor Fellow Fireplace + Clove Candle is a unique blend that captures the essence of both a crackling fire and the warm, spicy aroma of cloves. Hand-poured in small batches, this candle is crafted with precision and care. The minimalist design of the candle jar adds a contemporary touch to your space. The balanced combination of the fireplace and clove scents creates an inviting and comforting ambiance, making it a perfect companion for relaxation or entertaining guests.

Price: $$
Highlights
Burn Time 40-50 hours

Coconut/apricot blended wax

Made In America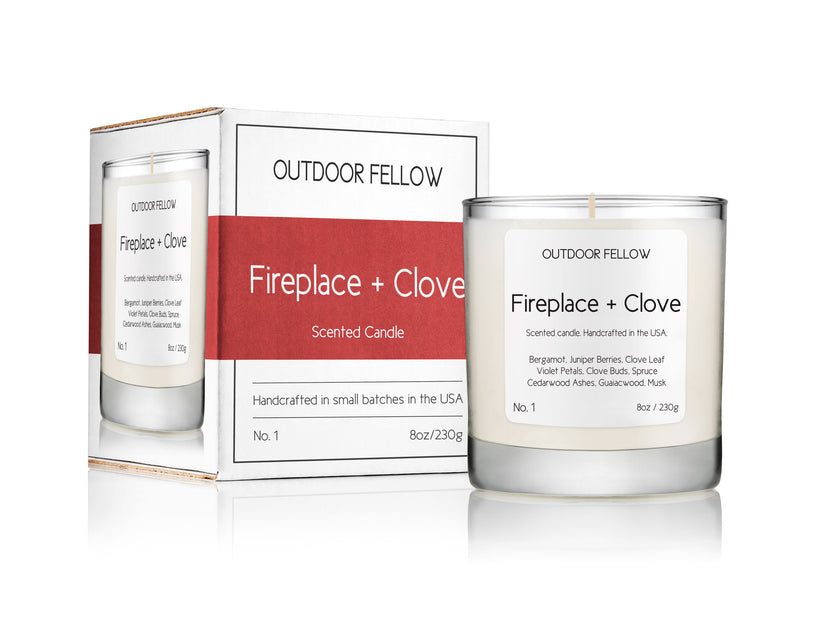 The Homesick Bonfire Nights Candle is a nostalgic journey back to the warmth and camaraderie of nights spent around a campfire. This hand-poured candle is carefully crafted with high-quality fragrance oils to ensure an authentic and captivating scent. With notes of smoky embers and perfectly roasted marshmallows fill the air., it perfectly encapsulates the campfire experience. The sleek and simple design of the candle jar complements various décor styles. Whether you're reminiscing about past adventures or creating new memories, this candle provides a comforting and evocative aroma.
Price: $$
Highlights:
Soy Wax Blend

BURN TIME IS 60-80 HOURS
What are your thoughts?
We hope this helped you select a quality campfire scented candle. We also hope that you give Moment At Home an opportunity to win your business! What is your favorite campfire candle? Do you have thoughts that we didn't consider? Reach out and let us know, we'd love to hear from you!